FIVE HEARTS  ♥  ♥  ♥  ♥  ♥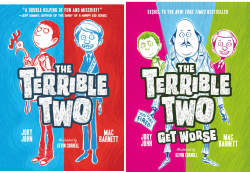 "Ha ha ha ha ha!" That was me reading these books! I loved the first book, The Terrible Two by  Mac Barnett, Jory John and had to read book 2, The Terrible Two Get Worse.   So clever and entertaining with values without shouting them at you with a satisfying ending.  I'm ordering Book 3 and can't wait to read it!  😀
The Terrible Two (3 Book Series) is a great read, available on amazon in Kindle, Hardback and Paperback.
"A double helping of fun and mischief!"
—Jeff Kinney, author of the Diary of a Wimpy Kid series
From School Library Journal
"Gr 3–7— VERDICT Amusing and entertaining if not a laugh-out-loud event, this is a story that will resonate well with middle schoolers and fans of Andrew Clements.—Jennifer Mann, Ann Arbor, MI"
I hope you will
SUBSCRIBE
to my blog!  I'll be bringing more
kid/family friendly
book reviews of books I have read and love.  🙂  As well as
family-friendly movies
on my
MOVIES I LOVE
page.
Thanks much!  
♥ ~ Deba Do