FIVE HEARTS  ♥  ♥  ♥  ♥  ♥
<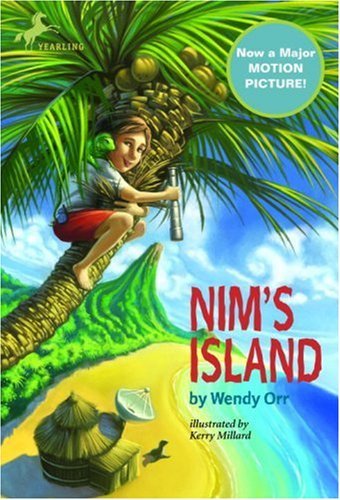 Grades 2 – 5 and everyone!
Fantasy!  Probable and very improbable adventure on an Island!  In her own little-big world , Nim takes on danger on her own when her scientist dad leaves her alone while he studies plankton.  But she's not really alone.   She has her friends iguana and sea lion which adds a lot of fun and if you love animals as I do, will melt your heart. Then there's the e-mail with a mysterious twist.  Nim becomes Robinson-Crusoe-resourceful, chopping down bananas with a machete, climbing palm trees, and figuring out how to start a fire.  She is fearless but faces bigger challenges when she loses contact with her father's cell.  Will her bravery and resourcefulness prevail? You need to read this fun girl (or anyone) empowering book to find out!  😀
The novel, Nim's Island is available on amazon on Kindle (which is readable on basically any device), Hardcover, Paperback and Audio.
NIM at SEA
FOUR HEARTS  ♥  ♥  ♥  ♥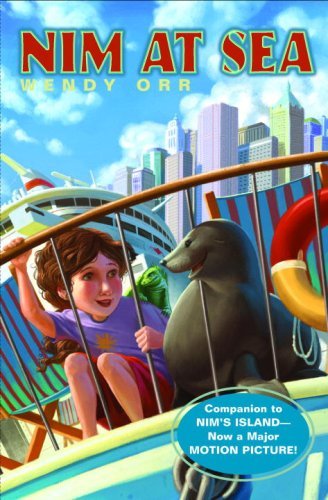 Sequel by Wendy Orr, Nim at Sea, is available on amazon on Kindle, Hardback, Paperback and Audio.
Nim's adventure continues as she stows away on a cruise ship to save her beloved sea lion friend who has been kidnapped. Her iguana and island girl friends join her in Manhattan in this exciting romp as they run from some unsavory characters!  Beautiful warmth regarding the importance of loyalty and human and animal relationships and welfare.
I highly recommend both these books for kids and family reading.  I believe it would be most fun to read the books, then watch the movies, Nim's Island and Return to Nim's Island, together.   Grab the popcorn!  😀
I hope you enjoyed my reviews.  Please Subscribe, Comment and Share!  <3  ~ Deba Do