HAPPY FEET~ HEALTHY ME
The kitchen is starting to come together!  Still putting finishing touches on cabinets and dreaming of new appliances!  But before that could happen, I needed my new floor in place.  My flooring, Luxury Vinyl Planks, had already arrived – Ready and anxiously waiting.  I had been told that for my particular flooring, underlayment wasn't necessary, but was something I desired for multiple reasons.
*This post is sponsored by Healthier Choice.  I sought them out after much research! All opinions are my own.  On that note, because I write about the things I use, find valuable, and choose to pass on to you!
GOING GREEN
Searching for an  EARTH-HUMAN FRIENDLY Underlayment
I did a lot of looking and research.  # 1 for me, of course, was to find one with no toxic, mean ole VOCs!
Cork was recommended as a good solution to me several times, and I'm sure fine for some, but cork has a natural odor which I'm not crazy about.   Not only that,  although natural itself, resin is often used as a binder and I'd rather stay away from that where possible. (There are some companies that heat press instead, which would be better.)   Also, after my flood fiasco, a moisture barrier was important to me,   I was told that cork is good with water absorption.  But that didn't make feel so secure, but then what?   as well at some level of  safe antimicrobial protection.Even though we had done extensive mold cleanup, I just felt I needed to keep looking.  
Also, as my new flooring is upstairs and going over some office area, I desired some sound barrier.   Plus a little cush underfoot wouldn't hurt!  😀  I was so happy when I found the one for me!  And let's not forget Price, Price Price!  Quality & Reasonable Price is important to me in any product I pass along to my followers.
Well!  OMNICHOICE UNIVERSAL  from  HEALTHIERCHOICE was the perfect fit!  With all of my desires, this product added several layers of feel-good security & well being moving forward.
I was excited when it arrived!  Nice an neatly packed in two boxes.   I needed 800 sq ft, so at 100 sq ft a roll, it worked out nicely.     (I opened them all to breathe a bit, although not necessary.  Just me being me.)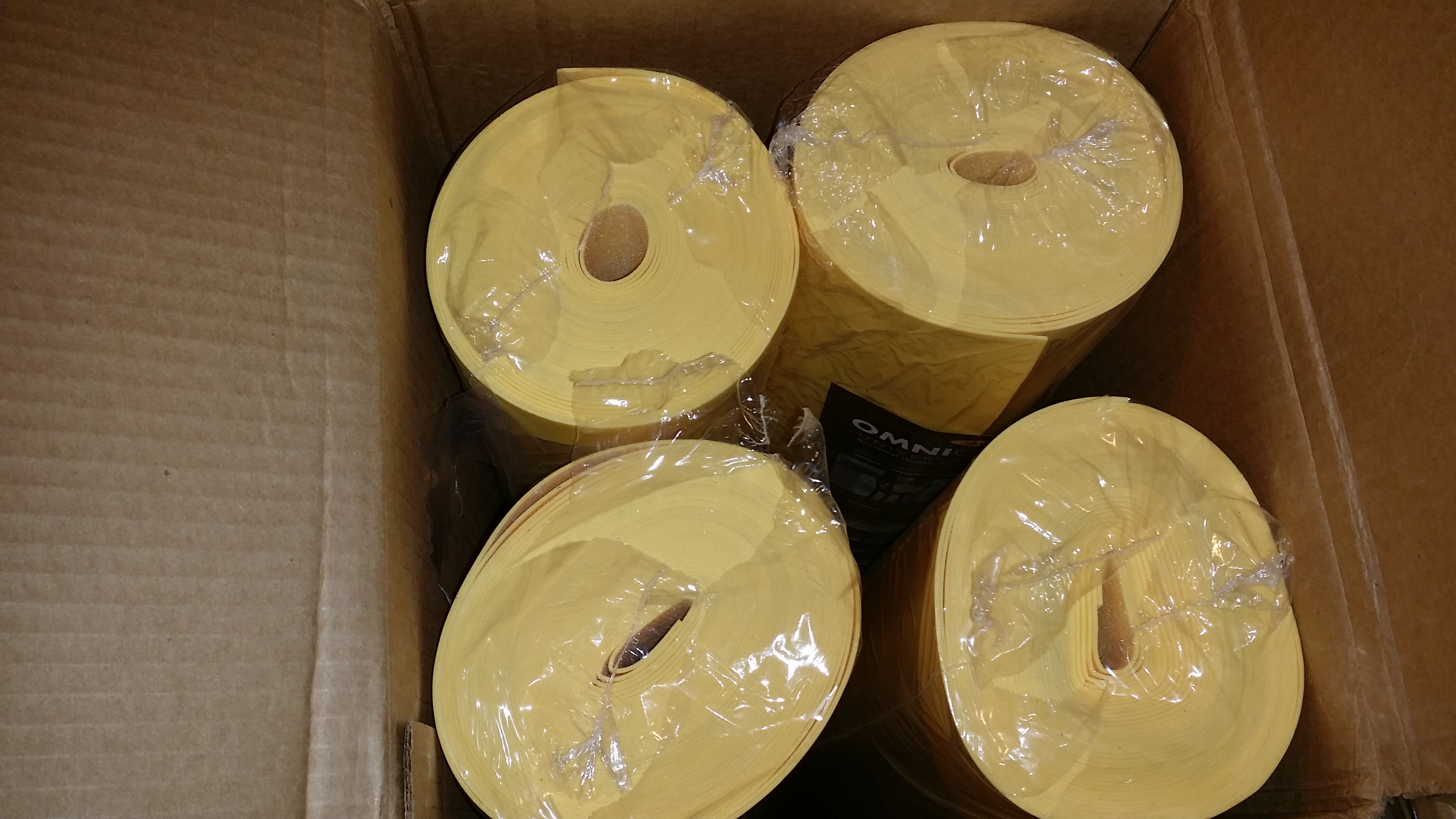 I thought, Wow, it looks so thin.   Can that be really effective?   But may I say, it is dense, tough stuff!  The quality is obvious and the thing is, you might get one that is thicker which one would think would be cushier, but most, in reality, would just squish down more and more under your floor, especially in high traffic areas or furniture.  This stuff is simply uncrushable!  Guaranteed.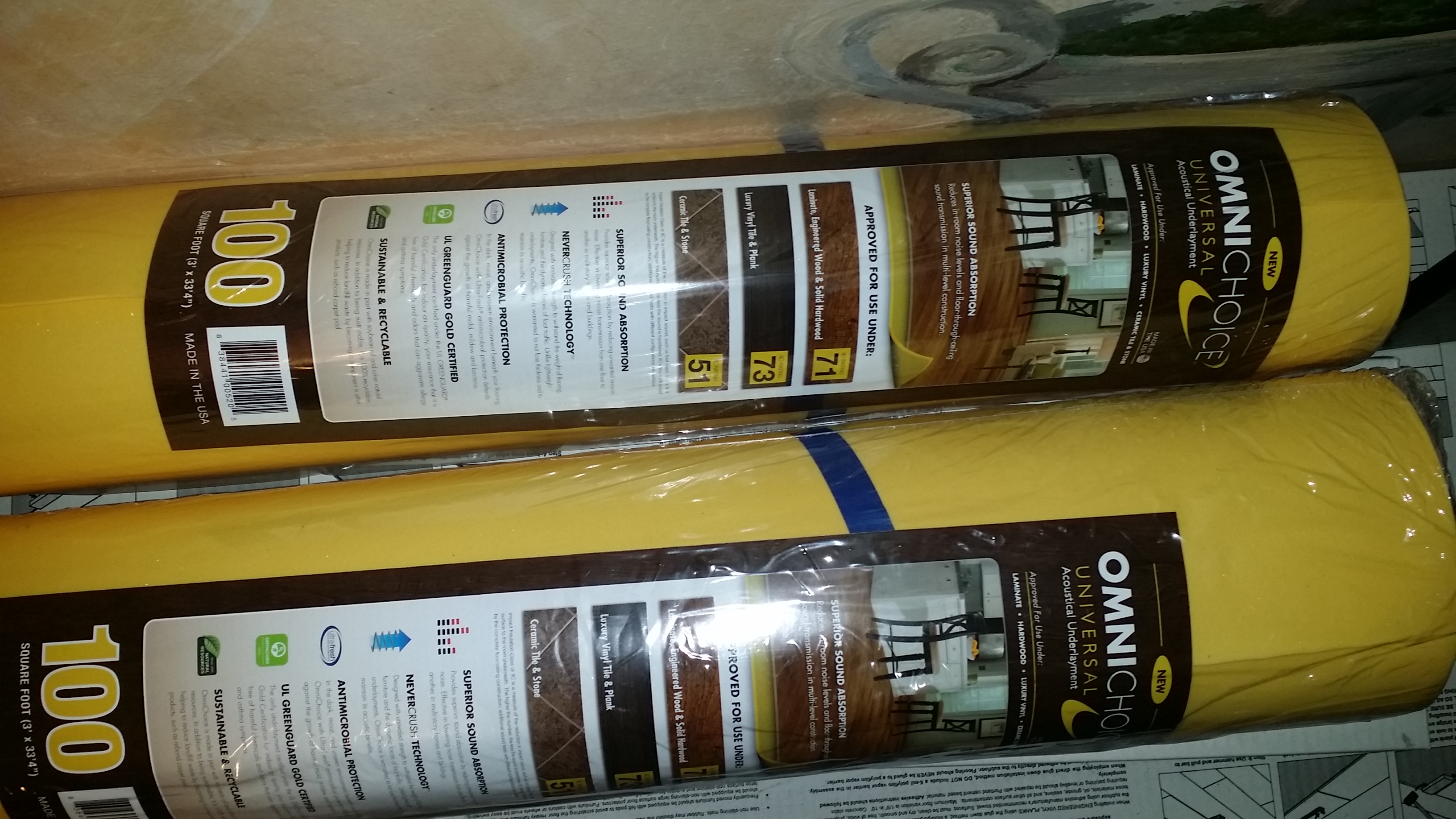 Eaaaaaasy Peasy!  Rooooooll it out and cut with a straight edge and utility knife.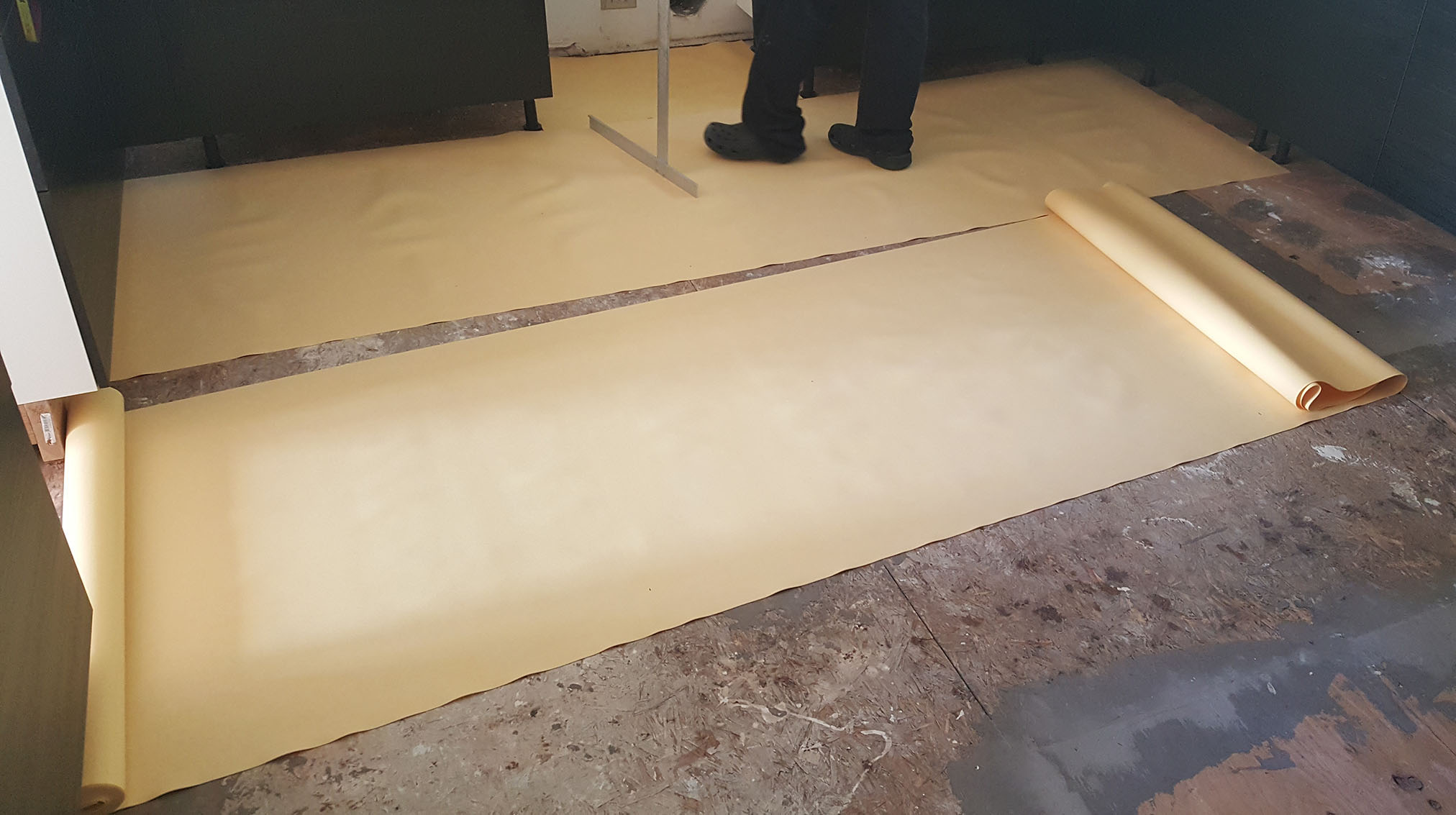 To hold in place as we went, I used small strips of tape here and there.  In speaking with the company, I was told it's isn't necessary, but fine, so I chose to go for it which found made it simpler. Then when the floor planks go down it all smooshes together perfectly.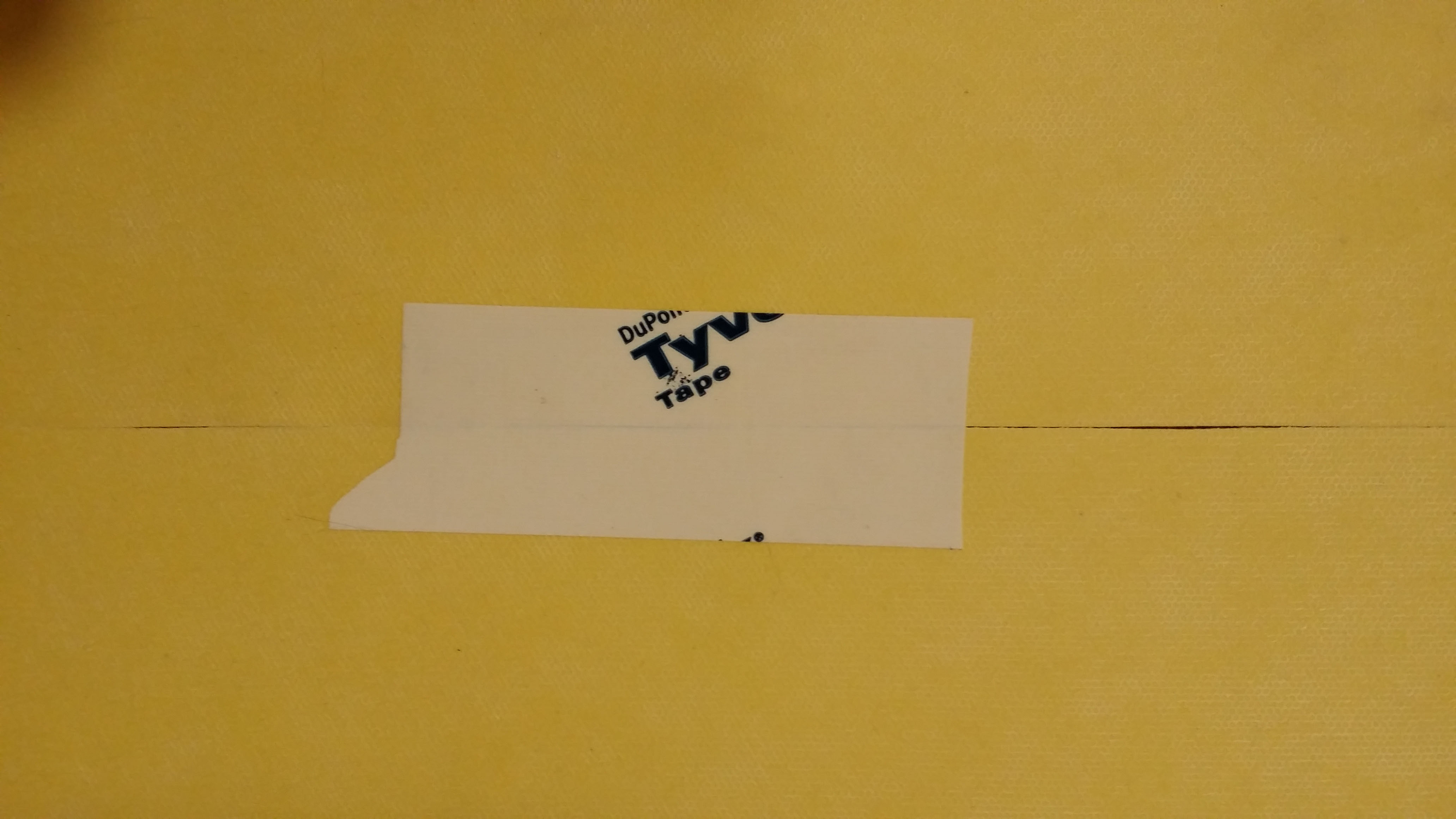 And it all went quite smooooothly.

With a little measuring, we made cuts around areas that called for it.  "Hey, you with the knife!  Over here!"  😉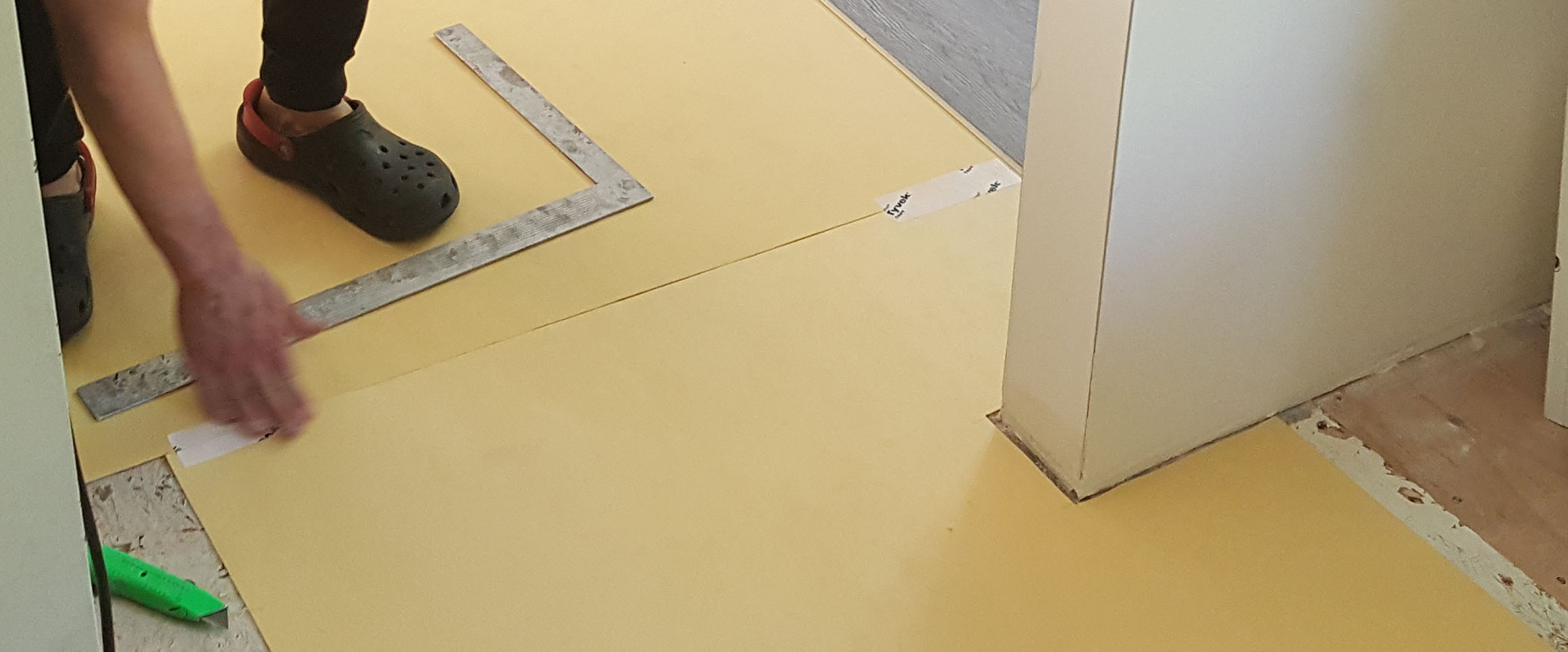 RESULTS  ~  COMFY NEW FLOOR ~ WOO HOO!
So, my planks are now down and I finally have a floor in my kitchen!  Yay!  I won't show you here, as that is for an upcoming post!  But I can tell you this.  My footsies are happy campers.  It feels wonderful!  I knew it would probably feel nicer than the way the planks felt lying on the bare floor, but wow, what a comfortable feeling this has added.  (And the comfort level isn't even one of the plus factors the company promotes on this product.)  Also, the sound factor below is significant!  All in all, I just feel better knowing this great, safe stuff is underfoot.
FACTS: ACOUSTICAL UNDERLAYMENT FOR WOOD, LUXURY VINYL & TILE APPLICATIONS
OmniChoice is a high-density acoustic underlayment specially designed to attenuate airborne and impact noise associated with hard surface flooring. It is effective at reducing in-room noise levels and floor-through-ceiling sound transmission such as foot steps in multi-level structures.
Its heavy weight construction ensures it will remain resilient and functional as an acoustic membrane, outperforming lightweight acoustic underlayments, which crush and fail from the weight of flooring, furniture, and the dynamic forces of foot traffic.
APPROVED FOR USE UNDER:

     Wood

      LVT

      Tile
CHECK OUT THE AWESOME FEATURES!
• Excellent Acoustical Performance
• IIC Rating 73
• STC Rating 67
• 100% High Density Memory Foam
• Premium Polyurethane Construction
• Great for Radiant Heated Floors
• NEVERCRUSH Warranty
• Lifetime Warranty
• UL GREENGUARD® GOLD Certified
• Breathable Moisture Barrier
• Ultra-Fresh
• Free of Harmful Chemicals such as,
• Formaldehyde, Latex, PBDE's,
• Made in part with Natural Resources
• 100% Recyclable
• Eligible for LEED Credits
WHERE YOU CAN FIND IT!
After all my research and finding the perfect underlayment for me, I was fortunate to have the company gift me the product.  But many retailers carry it all over the country. Where to Buy  If your fave store doesn't carry it, let them know!  HealthierChoice carries great carpet underlayment, as well!  Visit their page and find out why Healthier Choice Carpet Cushion is "The World's Best Carpet Cushion."  😀
*****************
Find it on

amazon

!

You can also find Healthier Choice underlayments on amazon!  I'm an affiliate on amazon and if you purchase anything there after going through this link while there, I get a small kickback.  Yay! 

*****************************
Good Luck with your projects, my friends!  Let me know what you're up to below. 

Please Subscribe and I'll see you next time!  ♥  ~ Deba Do ~ Deborah Reed