FOUR HEARTS  ♥  ♥  ♥  ♥
At Your Service!:  Blondie McGhee Detective Series: funny Detective Mystery Series for 9-12 Year Old Girls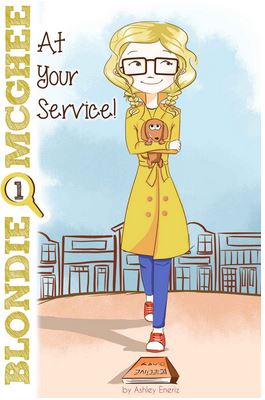 While reading Blondie McGhee, I felt a yearning for the me as the young girl that would have loved this book. I know it would have incited the detective bug and I would have been finding a daily mysteries to solve while digging up clues right and left. What fun!
The first book in the series is wholesome and a great empowering experience for young girls.
Excited to share with my granddaughters.
Even more wonderful is that the author, Ashley Eneriz donates 20% of book sale profits to help a mama and her family in need. Two great reasons to add this book to your library!
I hope you will SUBSCRIBE to my blog!  I'll be bringing more kid/family friendly book reviews of books I have read and love!  🙂  As well as family-friendly movies on my MOVIES I LOVE page.