This is the COOLEST product!  Get it?  😀  It's Non-Thermal!  (Uses Cool technology – not Hot.)  🙂
For all those Nooks & Crannies you can't reach otherwise!  Very easy to use.  Uses a wide range of products or DYI concotions!  (Stay tuned – I'll be sharing my faves.)  Just pour the desired liquid in, set and go.  You'll be so glad you did!
SILVER BULLET ULV NON-THERMAL COLD FOGGER TRIPLE JET PEST MOLD MOSQUITO FOGGER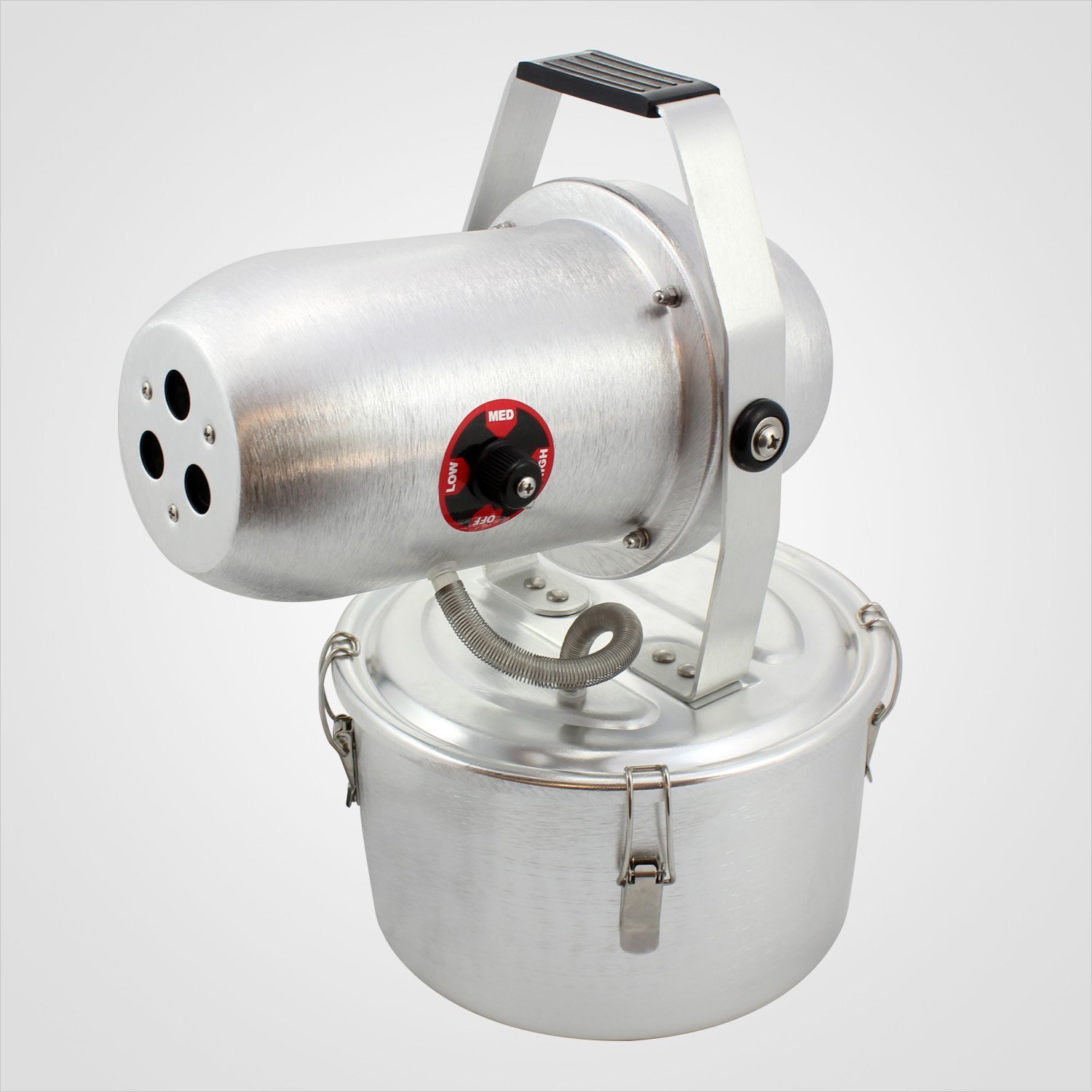 For more info on using THIS FOGGER on my MOLD REMEDIATION STORY.
The Silver Bullet is a creative improvement on other ULV foggers on the market. Not only does the Silver Bullet boast a more powerful motor, allowing for up to 40 ft of spray vs 30ft of spray, but it is also made of more robust materials than the competing unit like the "Commander". The stainless steel hardware, improved jet nozzles, and more powerful vacuum pump motor are just a few of the upgrades that the Silver Bullet has over the Competition.
Some of the many functions include:

Mold and Mildew Control, Sterilization/Sanitizer Fogging, Pest Control Fogging

, Applying Concrobium Mold Control , , Can use with Almost Any solution/chemical. Oil, Cedar, and Water Based Solutions, Insect Fumigation
Fogging can be an ideal approach to

mold abatement in damp, musty basements, attics, crawlspaces and any large area where mold is a concern

. Can achieve 100% black mold kill if used in conjunction with an Ozone generator or Hydroxyl Generator for flash treatments.
For fogging Concrobium Mold Control.

Atomizes

Concrobium Mold Control into fine mist. Great for mold remediation and prevention in large or inaccessible spaces.
This is a cold Non-Thermal fogger so the solution will come out as a ultra low volume liquid fine mist rather than a gas like it would with a thermal fogger. Chemical fogging, misting, or humidity control is simple with the Ten Green Fingers ULV Fogger. The combo of the adjustable valve and the three (3) tornado action nozzles allow maximizing misting up to 40 feet. directionally. The versatility of this unit allows you to fog with practically any solution, both water base and oil base materials and may be used either indoors or outdoors.
Triple Jet Cold ULV (Ultra Low Volume) Cold (Non-Thermal) Fogger Features: •Lightweight and Corrosion free Stainless Steel and Aluminum Construction •Low, medium, large droplet size control for wet or dry applications • 1 Gallon Plus Fluid Tank • Kills Mites, Fleas, Bed Bugs, Lice, Fruit Flies, and most other insects •Excellent for use with non-toxic cedar oil products for fumigation of occupied spaces, homes, air ducts, basements, garages, attics, warehouses,Greenhouses
• Works great with water based products, oil based products.
The Silver Bullet Triple Jet fogger was specifically designed to function for a very wide range of uses for both indoor and outdoor applications. Greenhouses, Food plants, hotels, homes, stores, barns, parks and hospitals are just a few examples of sites which right now depend every day on the Silver Bullet.
Adjustable flow rate allows for ULV aerosol or a residual wetting spray that wets all surfaces. For professional and personal use.  The portable Silver Bullet is a "cold fogger" it has a one-turn control knob to adjust particle size and degree of misting.
Uses:
The extremely diverse hard core functionality applies to countless applications like fumigation, black mold killing, vegetable garden misting, plant/tree misting/feeding/fumigating, neutralizing odors, disinfecting and sanitizing, carpet mildew control, flood and fire damage restoration, controlling mosquitoes, killing virtually any other insects, dispensing water for humidification and dust control, just to name a few…..
Great YouTube How To use Fogger video!
Note: Killing Pests is  not my thing if it can be done a different way . . .   If I was having a big problem, there is one thing I could use in THIS fogger that wouldn't harm the buggies, just make them want to find different pastures.  Post on that, coming soon, so please SUBSCRIBE & STAY TUNED!  🙂