WOO HOO! Paint time! Oh Dear. Ugly hole in the wall. Excited to put fresh new paint color in the Fam Room, but UGH. What to do about a hole big-enough-to-stick-my-nose-in. Not that my nose is huge, mind you, but that's still too big for just spackle alone. But I've NEVER spackled before! I really didn't want to spend the 'big' bucks for the little kit at the hardware store containing a piece of mesh with a tiny tub of spackle – not to mention very TOXIC spackle!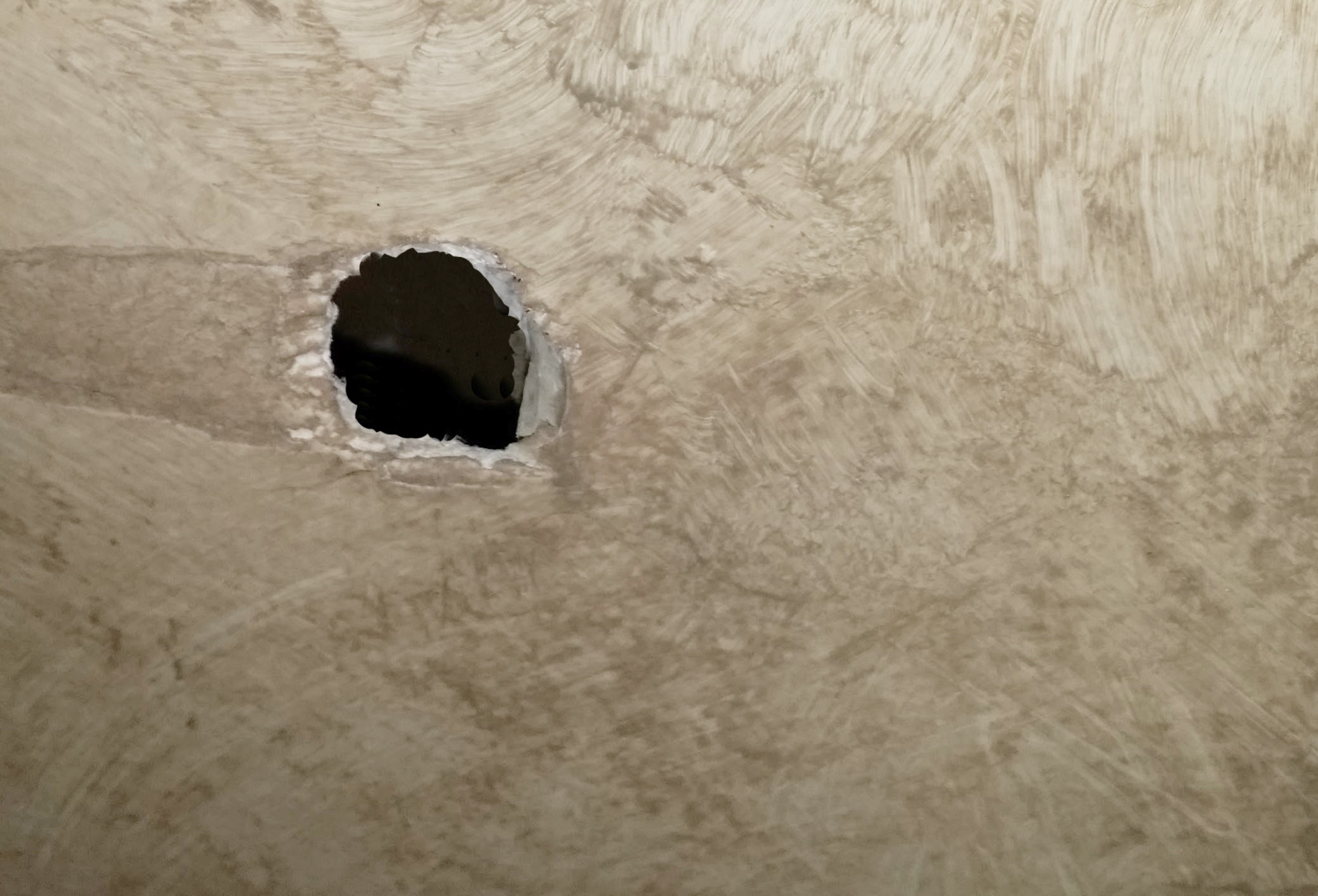 A friend suggested his method of using a Popsicle Stick & String. Tie string around stick, finagle into offending hole in wall, slap some glue inside, then anchor sting to something. Wait for glue to dry, cut string and spackle. Hmmm . . . Really not a bad DIY idea. Go for it if you like! I thought there had to be a better way.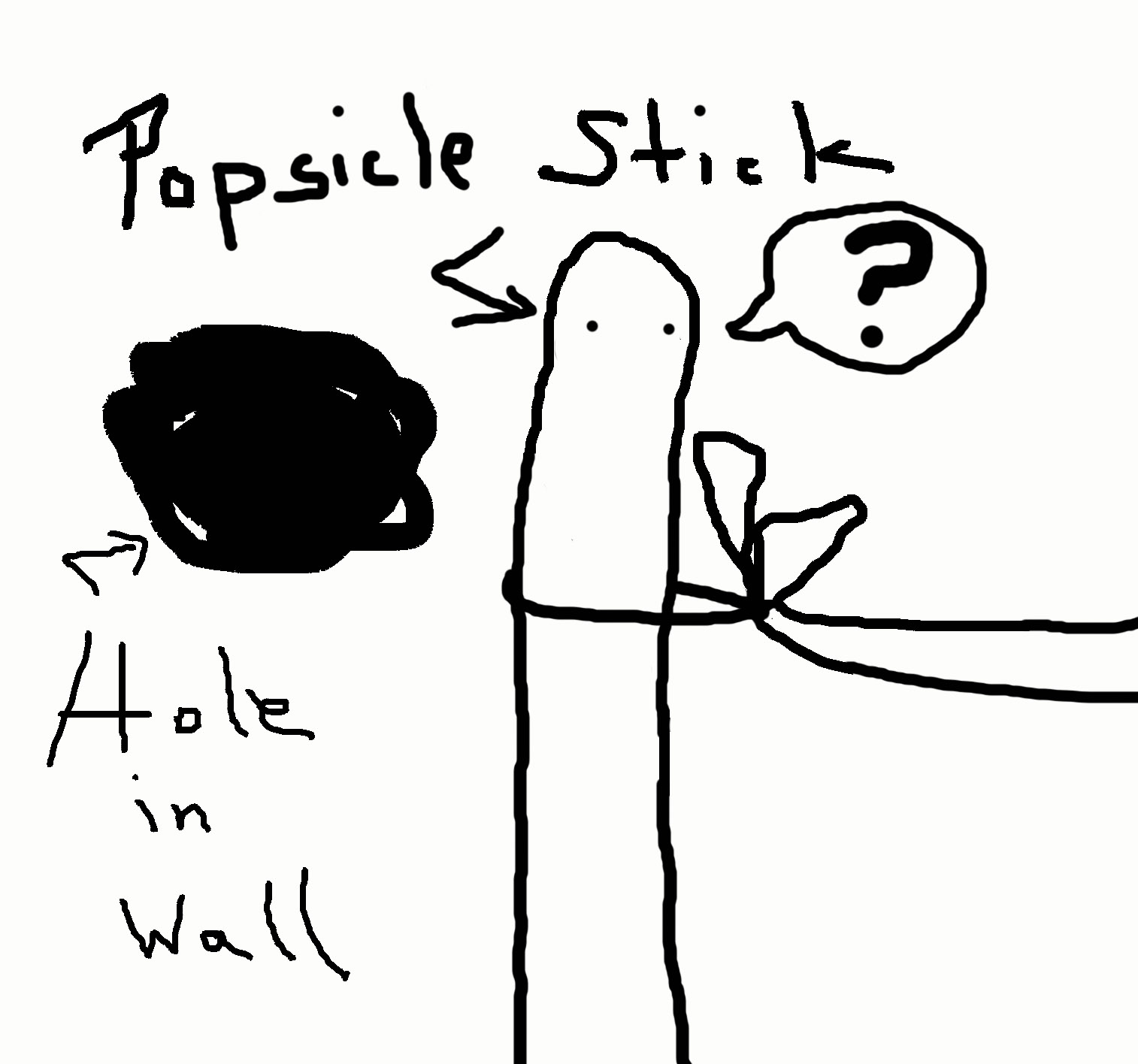 FIRST PRIORITY: Find an EARTH-HUMAN FRIENDLY spackle. Not easy! Usual stuff out there – Nasty-scary – just read the labels. (They may as well say you could end up like a dead bug with crosses for eyes and legs in the air, if not careful!)
Finally found THIS COOL STUFF. Crawford's Spackling Paste. "NON TOXIC! CONTAINS NO MERCURY, TIN, FORMALDEHYDE, ASBESTOS, DETECTABLE AMOUNTS OF BENZENE, NAPHTHALENE OR ADDED SILIC, etc".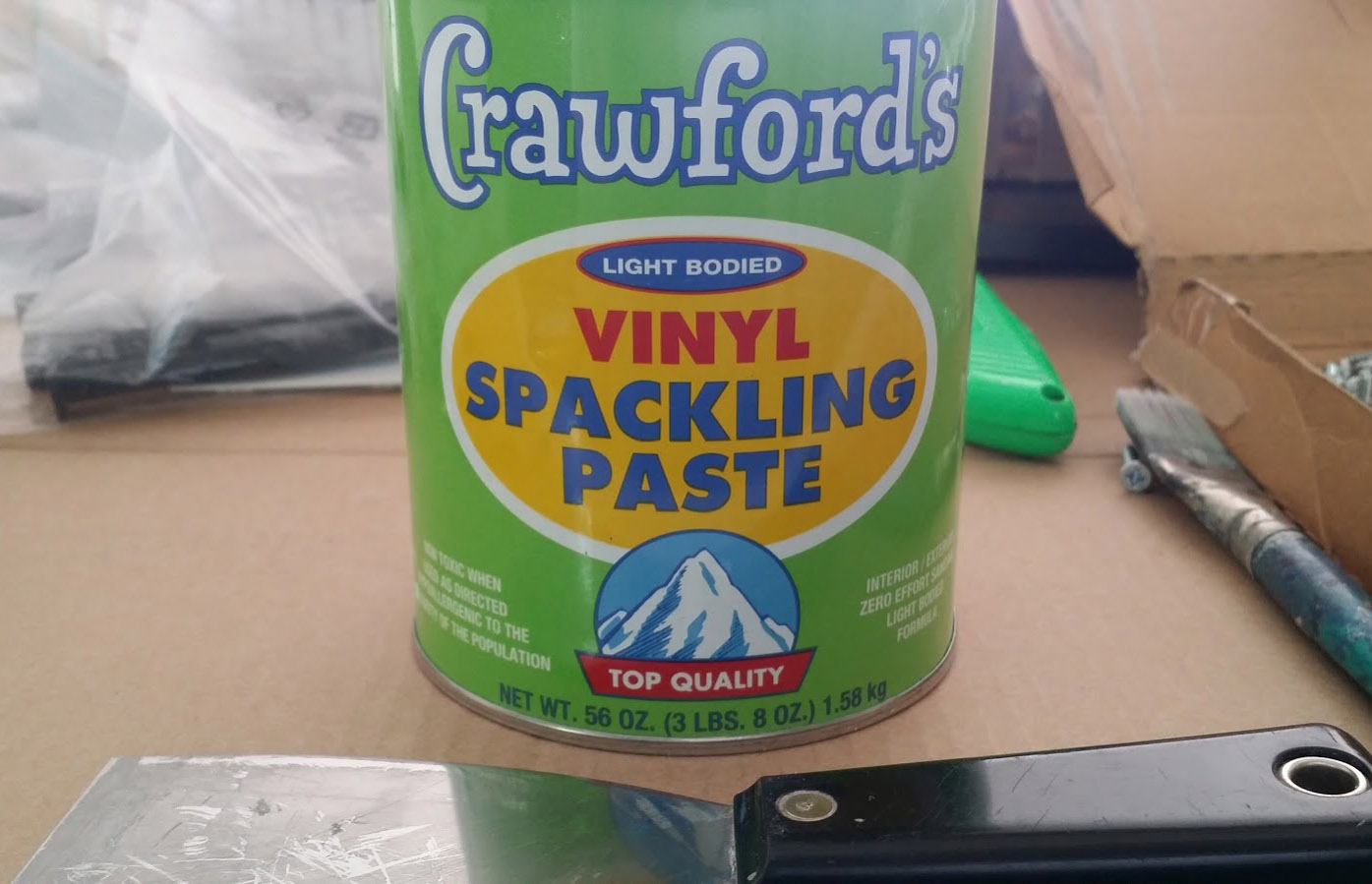 Note: Can says to use on primed or painted surfaces.
To learn more about Crawford's Spackle and where I got mine, check it out on my article.
* * *
ONCE YOU'VE CHOSEN THE SPACKLE OF YOUR HEART . . . TIME TO FILL THAT HOLE! 😀
WHAT I USED: (No strings attached! ha ha Yeah, pun intended…)
SCISSORS or UTILITY KNIFE
CORRUGATED CARDBOARD
GLUE GUN
PUTTY KNIFE – 3″ Flexible makes for a nice spread
CRAWFORD'S VINYL SPACKLE PASTE
MEASURE the size of the hole. You needn't stick your nose in. (Unless you want to.)
Cut the cardboard to the general look of the hole. Poke it in a bit, mark and trim as needed.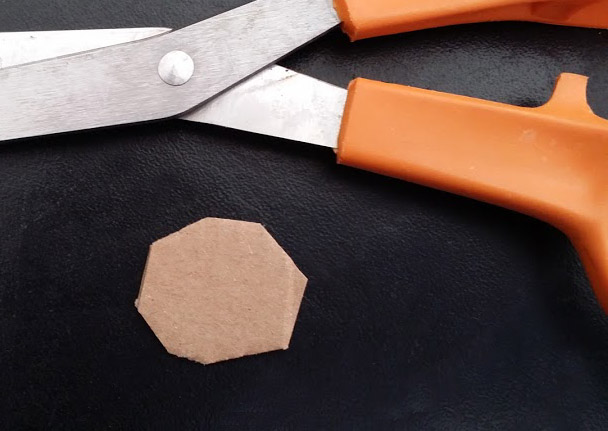 NOW, time to haul out that grungy old GLUE GUN you haven't used in years from somewhere in the back of the junk drawer. At least, that's where I found mine. In the end, I actually said aloud, "Say, little guy, I don't know why I ever stopped using you!" "Ouch!" Oh yeah, I thought while sucking my finger. "Now I remember."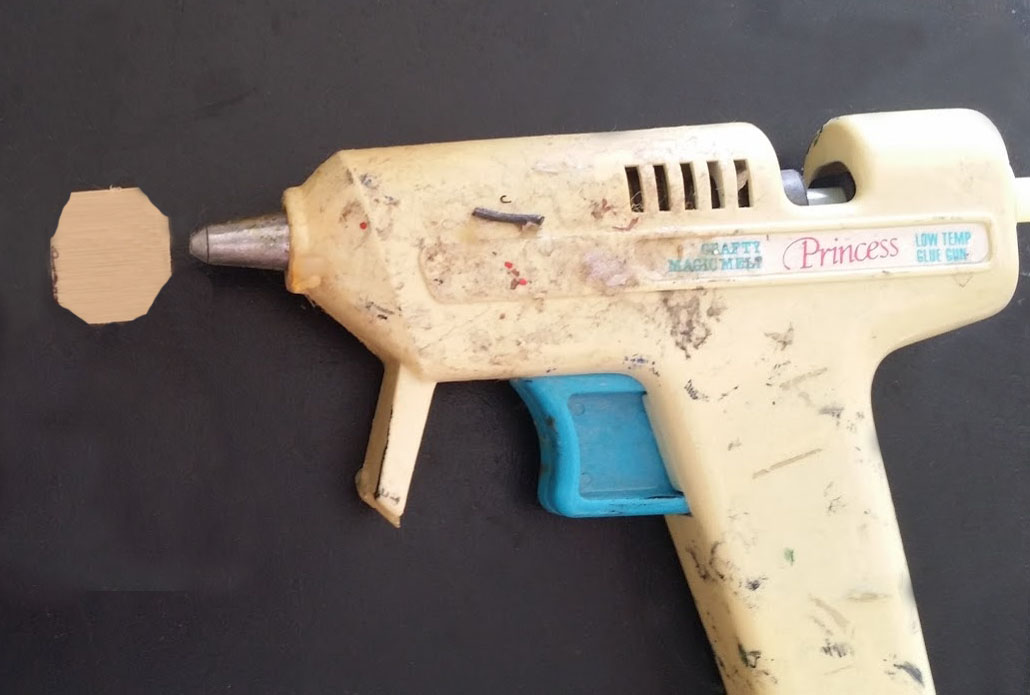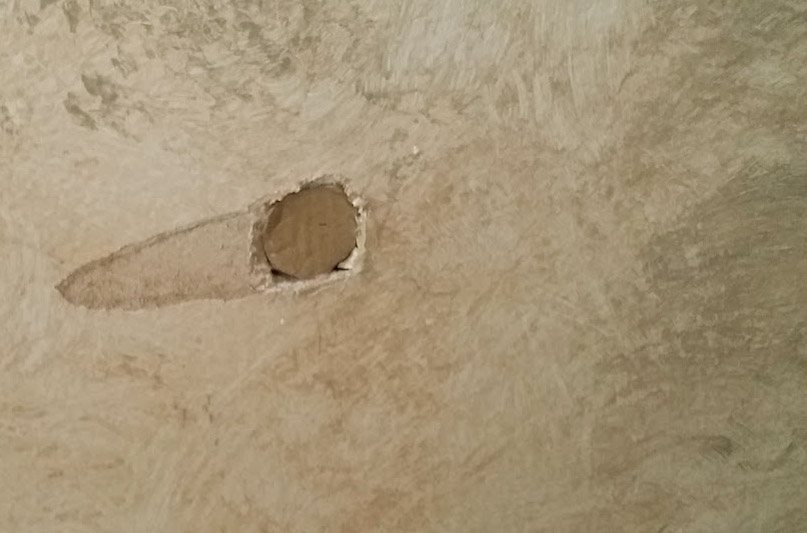 SMOOSH any rough edges of drywall inward.
GOOP a little glue on cardboard and fit in. (Wear lightweight garden gloves or something unless you're an expert!)
SMOOTH edges of dry wall so all flat as possible. SAND if needed.
I ended up gluing another piece of cardboard on top of the first one and it was juuuust right. (Forgot to get a second pic. Sorry!)
OPEN your can of Crawford's Spackling Paste.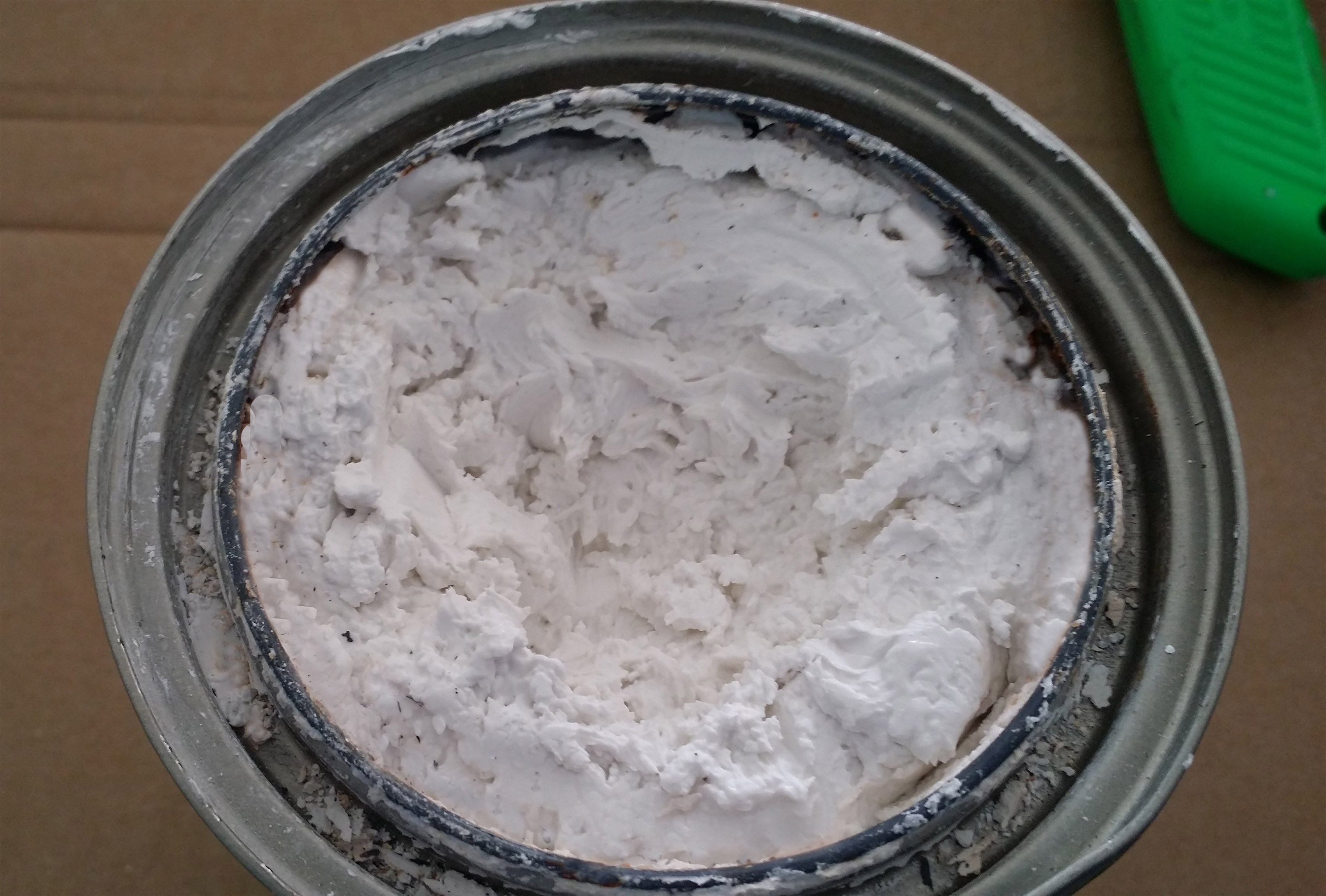 Oooooooo, SO FLUFFY. Love this stuff. Fun to work with. Play, practice and scrape off if you need to, to get the hang of it. I did! Be sure to keep lid on tight when not in use, although seems fine to be off or on loosely for a bit while working.
WOO HOO! There we go. You may not be able to tell, but this was nice and smooth as a baby's………. rattle.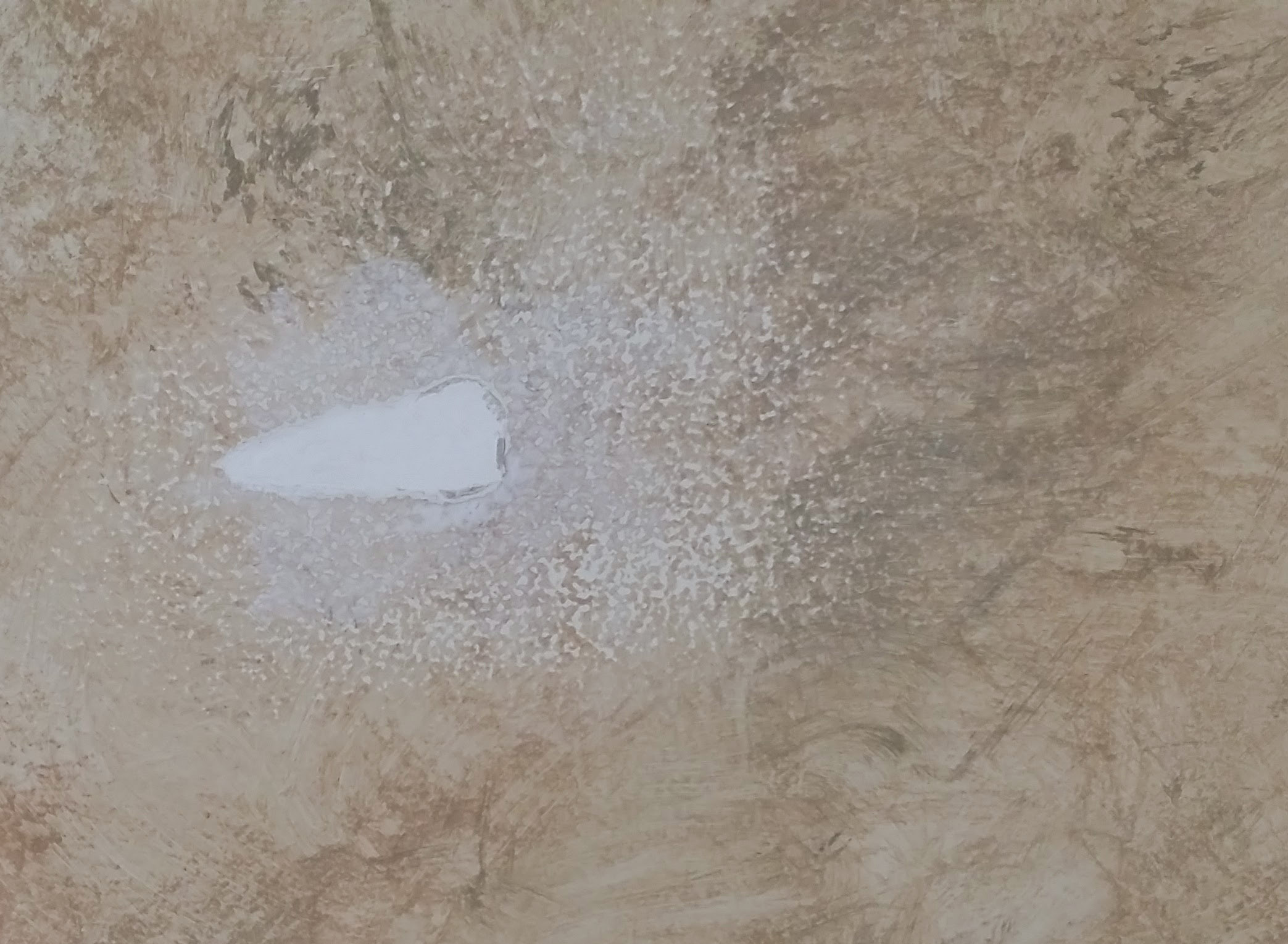 I've since primed the wall. Went on beautifully. ALL READY for that FRESH NEW PAINT COLOR! Can you guess what color?
PLEASE SUBSCRIBE & STAY TUNED!
LET me know if you have any questions in the Comment box. 🙂