Free Drawing ~ Can you guess my first line?
 1990 – Troll 2 –  What a Wild Ride!  Who knew?  None of us could have imagined this little movie we were performing in was to become the worldwide cult classic film that it is – loved by so many walks of life – "Troll 2".
In this scene, Arnold (Darren Ewing) bravely confronts the "Monsters".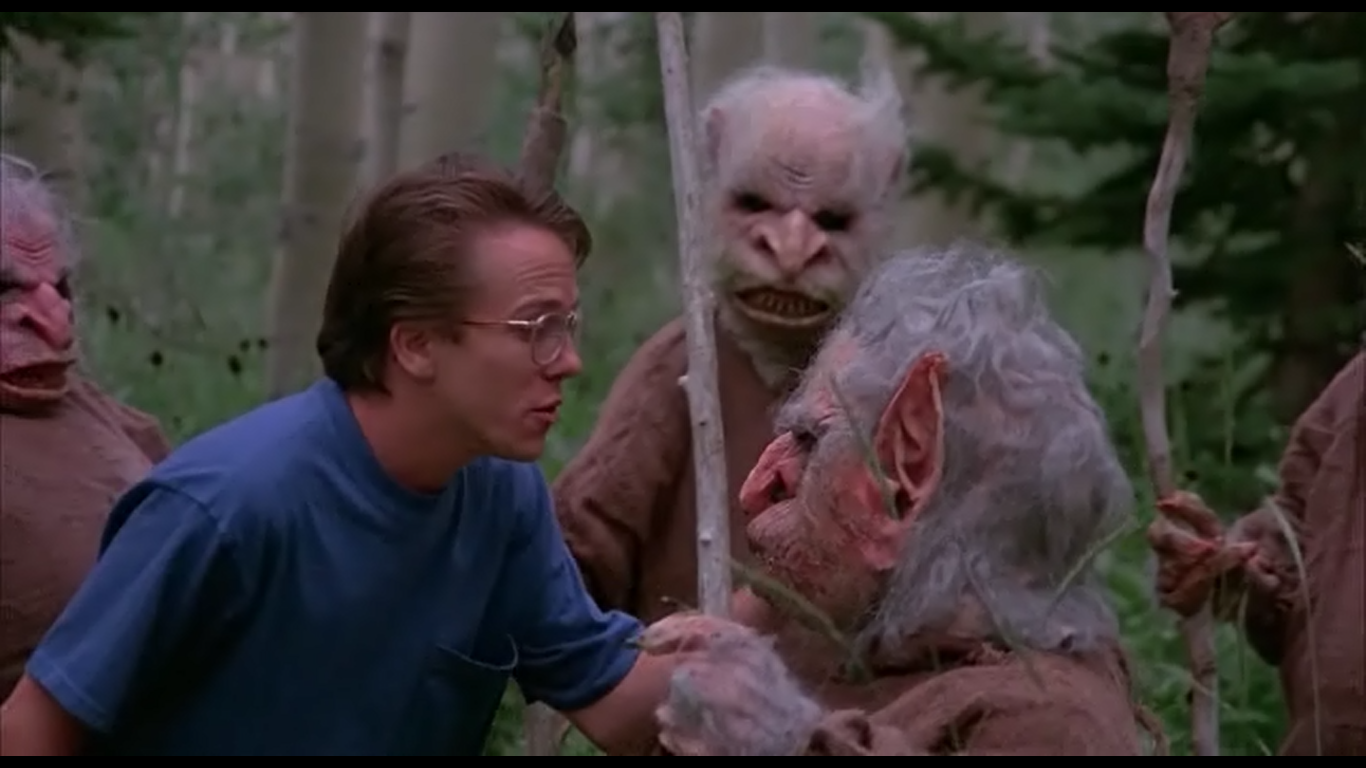 Arnold and his new acquaintance don't fare well, as a Goblin attack ensues!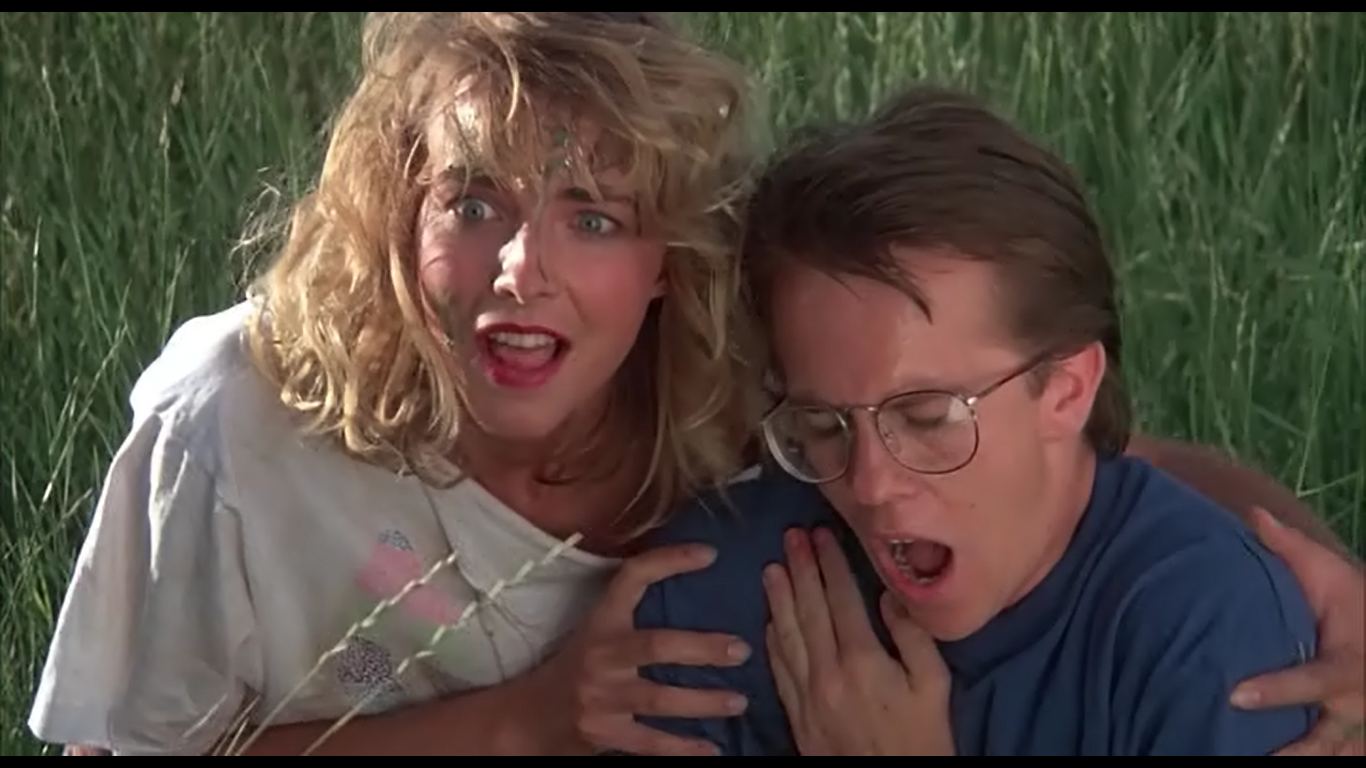 The frightened duo stagger from the forest to a creepy looking abode.
Troll 2 Trivia: "The original church house was erected in 1898." "Eventually, costs of maintenance and needed repairs led the congregation to remodel the old school house and convert it for use as a church. Although the school house was sold to the ward in 1936, it was not until 1946 that regular meetings were held in the refinished space, mostly due to World War II. The church was sold to Marvin and Grace Kilbourn who, despite efforts at preservation, were unable to prevent vandalism over the next several decades. In 1970, the Bergman family purchased the church and remodeled it into a home while keeping the exterior intact.[5] In 1971, it was added to the Utah State Register of Historic Sites, which is now inactive.[6]In the conversion to a private home, the steeple tower that was wood framed with Gothic-arched frames on each side was removed.[7] After being seen in Troll 2 filmed in the area in 1989, a fire in 2000 destroyed all but a shell of the original building."  By Amariekleio at English Wikipedia, CC BY-SA 3.0, https://commons.wikimedia.org/w/index.php?curid=13808049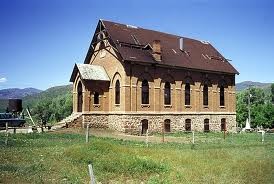 As they enter, Arnold wonders where they are.  "What is this place?"
SUDDENLY, a disturbingly odd old woman appears at the top of a rickety long staircase.
My Personal Trivia:  My first appearance in the film!  Someone grabbed me from behind as a joke away from the scope of the camera – just as I was about to say my line and descend the stairs.   It threw me off mentally! 

  I just went on with it, which resulted in one crazy take!  But then, the majority of my lines were one-take wonders.  Hee.)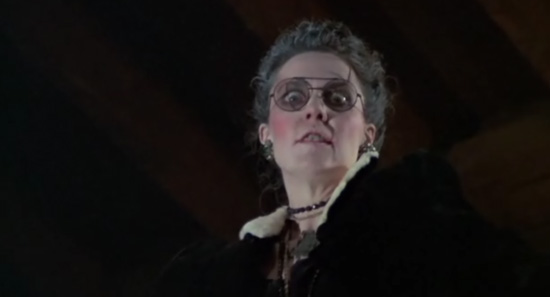 The old lady then says . . . . .  "T…………………………..!"
WHAT DOES MY CHARACTER SAY?  (One of my most famous lines.)
How is your Troll 2 Recall? 
Random drawing for an autographed pic of your Troll 2 Queen.  
Simply GUESS in the COMMENT Box below (It doesn't have to be correct.  You can have fun and say what you wish!  I love hearing your thoughts!)
*********************************************************
***If you SHARE on your favorite social media (left side of screen), it will make your QUEEN smile…. Reeeeeal BIG.   

***If you haven't been entertained by this crazy cult classic, or it's been awhile, you can find Troll 2 on amazon!
***Join me! Please SUBSCRIBE!  (Left column.  On phone – scroll to bottom.)  Or I may just have to turn you into a 

  Don't miss the next Troll 2 Trivia giveaway and other crazy stuff!
***To learn more about Troll 2 and my film career: Please visit my IMDb page!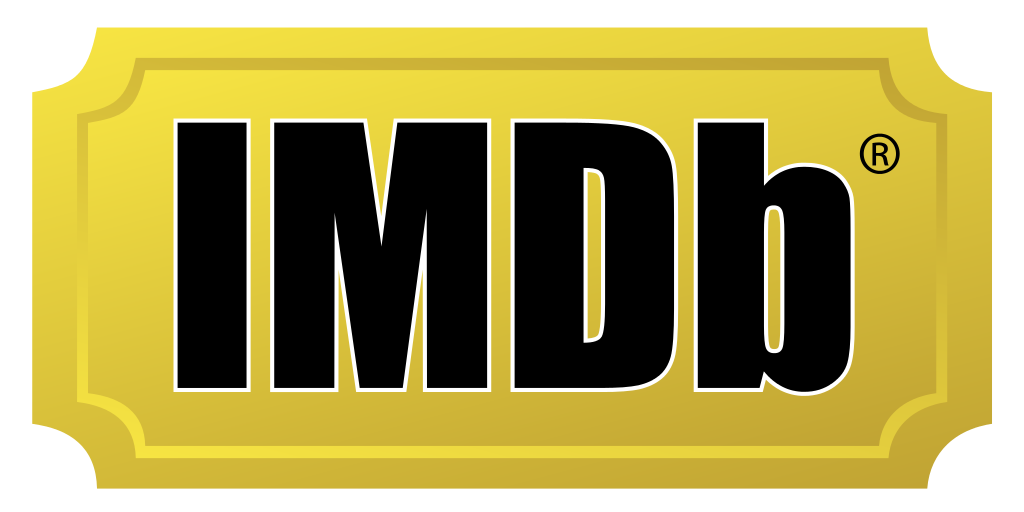 BTW, I didn't know till recently you can 'Like' actors' IMDb pages.  You can!  Just scroll down a bit, if you're in the mood! 

  Awww, you're nice.  Supporting and Sharing my pages enables your Queen to take the time and continue reaching out to my APPETIZING fans!
~ Goblin smooches, Creedence, your Troll 2 Queen – DebaDo – Deborah Reed ♥